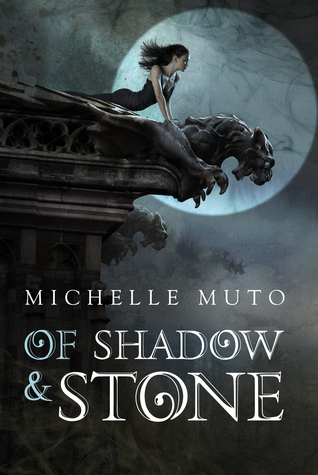 Gargoyles were created centuries ago to protect mankind, but something went horribly wrong. Now only the sentinel—a mortal chosen to control the stone beasts—stands between them and their human prey.
When the latest sentinel is killed, Kate Mercer is destined to take his place. But Kate has enough going on in her life—like a skyrocketing film career, a delusional ex-boyfriend, and a crazed stalker who will stop at nothing to get to her. But the powers that be have decided, and Kate is transported to Shadow Wood, a mysterious castle that serves as a sanctuary for the supernatural. Although beautiful, Shadow Wood is no safe place for a mere mortal. Yet Kate is drawn not only to the gargoyles but also to Ian McGuire, a charming novelist who might be in the greatest danger of all.
As Kate decides whether to accept the most perilous role of her life, she discovers there are more secrets than answers within the castle's walls. Her survival and Ian's depend on her ability to master the gargoyles before time runs out. Is fate really cast in stone?
Writer of urban fantasy, the paranormal, and all things eerie and curious. Lover of scary books and funny movies, sports cars, chocolate, and changes of season. Owned by two incredible dogs and an iMac. Author, wife, sister, freelance tech writer, and IT geek.
FB Author Page
Author Interview:
1) When did you want to be a writer?
I think when I was about 7 or 8.
2) Is it difficult to self publish a book?
I've been traditionally published and gone the indie route. They're both about as difficult in different ways.
3) What advice do you have for those who wish to be authors?
I know it sounds lame, but keep writing. Read books on writing. Read books in the genres you want to write. Then put your butt in the chair and write some more.
4) What are you working on now?
The sequel to THE HAUNTING SEASON.
5) Will there be a sequel to Of Shadow and Stone, if so do you know how long the series could go for?
There could easily be a sequel or at least more in that world. I don't know how many, though.
6) Who are some of your favorite authors/books?
Stephen King, Dean Koontz, Shirley Jackson, J.K. Rowling, Lee Childs, John Sandford, Janet Evanovich, John Grisham, Thomas Harris, David Sedaris, Neil Gaimen... Gosh. I think I could go on and on! I'll read anything except straight-up romance, historicals, erotica, or westerns. My favorite genres are paranormal, horror, YA, comedy, and thrillers.
I wanted to read this book because I read a lot of paranormal books and I have never come upon one about gargoyles! This book is categorized as YA but it is more adult in my opinion, and I think adults would prefer it over young teenagers. The book starts out well with lost of interesting world building. The author is really capable of building a world in your head that is interesting. I enjoyed the characters and the relationships between Kate, Ian, and Declan. The plot was simple and could of had more to it but it still kept my attention til the end. I love the world created in this book and was excited to hear from the author that there could be more book in this world. I would recommend this book to anyone who enjoys paranormal stories!