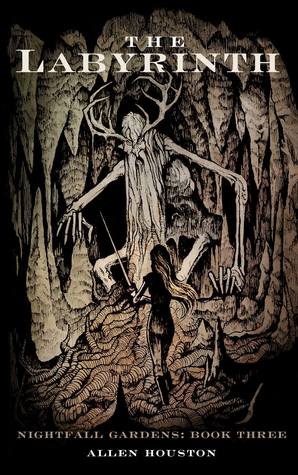 The Labyrinth
(Nightfall Gardens #3)
by
Allen Houston
(Goodreads Author)
Synopsis:
Time is running out for Lily and Silas Blackwood in their hunt to destroy Pandora's Box before the beings of Nightfall Gardens unleash its evil upon an unsuspecting world.
Loyalties will be tested and friends will make the ultimate sacrifice as the two face off against an army of horrors that live in the Gardens.
At the center of it all stands the Labyrinth, a maze haunted by dying gods and startling secrets that Lily must navigate to find Pandora's Box. But will she be too late?
"The Labyrinth" is the nail-biting conclusion to the "Nightfall Gardens" trilogy.
Allen Houston grew up in Bixby, Oklahoma.
He attended the University of Oklahoma, where he earned a degree in English Literature. After graduation, he lived in Indonesia and Japan. Upon returning to the states, he worked as a reporter/editor at the the Dallas Morning News and The New York Post and as City Editor of Metro New York. Allen resides in Brooklyn with his wife and daughter. After Imogen was born, he began writing a story for her and Nightfall Gardens was created.
I just want to start by saying I am devastated that this is the last book because this series is sooo good! I hope the author has started a new series for me to devour.
Now onto my review....You do not need to read the first two books to be able to keep up an understand this book, but I highly recommend that you do read the first two. The last book in the series was a roller coaster of emotions for me. The epic war you knew was coming since book one was not a let down. The labyrinth's adventures and new characters made for a surprisingly great read. I loved the character relationships conclusion and would love to go into more details but do not want to spoil it for anyone! This book and conclusion to this series was truly prodigious. I love the authors ability to make you compare light and dark good and evil and tell an amazing entertaining novel at the same time! Thanks for the chance to read your books Allen Houston!
My Rating: