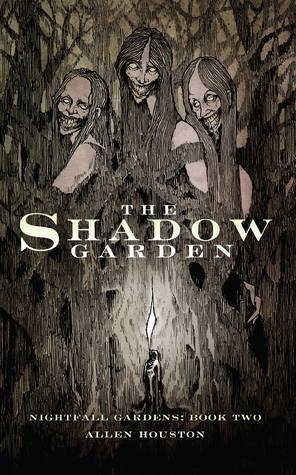 Precocious Lily Blackwood carries a responsibility far greater than other people. As the last female Blackwood, she must keep the evils in Pandora's Box from destroying the world.
With the help of her younger brother Silas, the dusk riders and her best friend Cassandra, she must protect Nightfall Gardens and ensure that the fairy-tale monsters, old gods and deathly shades stay separated from humanity.
But now, the creatures bound to the Gardens are gaining strength and threatening to break loose. Bemisch, a malevolent witch, has escaped into the mist land to join forces with Eldritch, a powerful nature god. The mysterious Smiling Ladies hold the key to a dark secret from the Blackwood family's past, and something once again roams the halls of the manor, trying to kill Lily.
Worse yet, her fourteenth birthday is approaching and with it a dangerous rite of passage. Lily must enter the Shadow Garden, home of all that is nightmarish, and come face to face with her most terrifying threat yet.
Vain Lily Blackwood and her shy brother Silas wonder if their family will ever settle in one place long enough to lead a normal life. When a mysterious stranger arrives claiming to be their uncle, they discover their parents have been hiding a secret that turns their world upside down.
The two are kidnapped to Nightfall Gardens, the family's ancestral home, a place shrouded in ancient mystery, where they meet their dying grandmother and learn of an age-old curse placed on Blackwood females.
Lily must take over as protector of the house and three haunted gardens that hold mythical beasts, fairy-tale nightmares and far worse. If she doesn't, the evil trapped there will be unleashed and bring on a new dark age.
While she deals with malevolent ghosts inside the house, Silas is put to work in the gardens, where one wrong step means death.
Along the way, they search to unlock the secrets of the house and to stop the creatures in the gardens before time runs out and the world is destroyed.
I was asked to review this book by the author. I looked up the book and loved the synopsis and cover, so I told him I would review it. I was a bit nervous because what if it was a complete let down and I had to tell the author that my review wouldn't be so kind. Thankfully though the book lives up to the cover and description. Actually it does better than that it blew my mind. This book is the best Gothic novel I have read in a long time. The writing is so descriptive with an amazing plot and WTF chapter cliffhangers! I love that the story is told from Lily's and her brother Sila's point of view cause it was easy to connect with them as characters and made the story enjoyable to read.
I honestly want to go on and on and on about how descriptive; dreamy, dark, spooky and Imaginative, the story was. Honestly I wish I could write like that but I am still trying to practice the skill of weaving together adjectives to create a story the jumps of the page!
This first book was a page turner, with great characters, and a story, despite its spooky theme, that comes to life in your mind. A must read for everyone!
Honestly everyone is talking about the Red Rising Series book series by Pierce Brown right now, but I feel they should be talking about the Nightfall Gardens series! It would make a great TV series!
Allen Houston grew up in Bixby, Oklahoma.
He attended the University of Oklahoma, where he earned a degree in English Literature. After graduation, he lived in Indonesia and Japan. Upon returning to the states, he worked as a reporter/editor at the the Dallas Morning News and The New York Post and as City Editor of Metro New York. Allen resides in Brooklyn with his wife and daughter. After Imogen was born, he began writing a story for her and Nightfall Gardens was created.
Here is the thing about lovely dark descriptive books....they just get better in a series!
I love book series and feel that lately the first book in the series is good but never as good as the sequels. The Shadow Garden grows so effortlessly from the first book. I love the characters and their growth from book one. The story is even better than the first and will keep even Adults glued to this book until it is finished! Just like the first one this book is so descriptive and creates a dark and very imaginative story that leaps of the page. I truly loved this book and series so far, Thankfully I have the third book to start reading immediately!
Everyone needs to read this book series! Honestly why hasn't this series been read by more people!
This really upsets me cause these books are sooooooo ggooooooodddddd!
Please pick up your copy today and share this post so others hear about this great book series PLEASE!