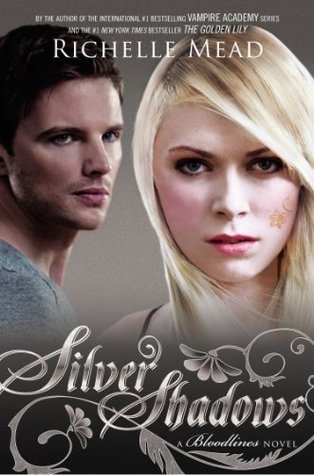 I finished Silver Shadows in less than a day even though I added it to my goodreads Currently reading shelf a week ago. I was excited to get this book and a little sad that I needed to put it aside to finish my review pile first. No worries though because when I finished my current Book Review pile I immediately started Silver Shadows.
I love reading everything Richelle Mead writes because she can create an amazing world and great unique characters: some that you will love and some you will love to hate! Silver Shadows gave me all of those things and MORE!
SPOILERS AFTER THIS POINT!
Richelle left us hanging with the The Fiery Heart (Bloodlines, #4). Honestly I thought my brain would exploded in frustration at that devastating ending (The Alchemist Kidnapped Sydney!) the end....WHAT!
Almost a perfect gif of how I felt but just imagine the arrow in my heart.
Now back to Silver Shadows....
It began with Sydney still with the alchemist and Adrian losing his mind because he can not find her and is not sure how. This goes on for a couple of agonizing chapters that I was able to read through easily despite my frustrations due to the fact that Richelle is a great writer who knows how to keep you hooked!
Finally Adrian is able to connect with Sydney and the plan to find and rescue her starts unfolding pretty quickly and the whole time I am reading I look like this:
Lets just say I was determined to get to the Happy part where Adrian rescues Sydney and they live happily ever after! Oh wait this is a Richelle Mead book so happily ever after is not going to happen until the last page of the last book in the last spinoff. No worries though she is always gives us great moments for our characters and I was not let down.
When Adrian and Sydney are reunited and together at last away from the Alchemists I am elated but confused because there was still a third of the book left. I couldn't possibly imagine what was to come! Then the third climatic arc had me sitting bolt upright and biting my nails because Sheridan (PURE EVIL) would not let Synedy go. She ended up chasing one of my favorite book couples to Vegas. So Adrian did the only thing that he thought would save Sydney and let me tell you it was SOOO ROMANTIC. At the moment I realize what is going Jill texts Adrian about how she thinks this is the most romantic thing she has ever seen.
After the most romantic part of this entire series Adrian and Sydney are on the run again. Let me just tell you when Sydney had the chance to destroy Sheridan and didn't I almost lost it!
Then finally after all the nail biting twist, turns, and my favorite couple running for their life they made it to court, Lissa gave them both safety and that should have been it....
But no what is a YA book series without emotionally crippling cliff hanger.
Honestly after reading that entire book so quickly I felt like this:
I wanted to be happy but poor Jill....
Now I have to wait until The Ruby Circle!
If you read this Book tell me what you thought of it in the comments please!