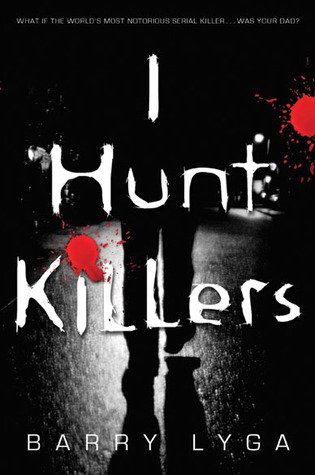 What if the world's worst serial killer...was your dad?
Jasper "Jazz" Dent is a likable teenager. A charmer, one might say.
But he's also the son of the world's most infamous serial killer, and for Dear Old Dad, Take Your Son to Work Day was year-round. Jazz has witnessed crime scenes the way cops wish they could—from the criminal's point of view.
And now bodies are piling up in Lobo's Nod.
In an effort to clear his name, Jazz joins the police in a hunt for a new serial killer. But Jazz has a secret—could he be more like his father than anyone knows?
Barry Lyga is a recovering comic book geek. According to Kirkus, he's also a "YA rebel-author." Somehow, the two just don't seem to go together to him.
When he was a kid, everyone told him that comic books were garbage and would rot his brain, but he had the last laugh. Raised on a steady diet of comics, he worked in the comic book industry for ten years, but now writes full-time because, well, wouldn't you?
The Astonishing Adventures of Fanboy & Goth Girl is his first novel. Unsoul'd is his latest. There are a whole bunch in between, featuring everything from the aftermath of child abuse to pre-teens with superpowers to serial killers. He clearly does not know how to stick to one subject.
I love the shows Criminal Minds and Dexter and recently have found myself wanting more dark twisted serial killers in my dull life. However I do not want REAL serial killers in my life, hence this book, I hunt Killers. I liked the synopsis which seemed to turn other readers away for some reason.
I was hooked by the first line:
"By the time Jazz got to the field outside town, yellow police tape was everywhere, strung from stake to stake in a sort of drunken, off-kilter hexagon."
oooo Really what happend?
The story was well written and kept me hooked until the last line. I liked the characters most because they are what brought the story alive. Jazz is quite a creepy character in the way he assesses people around him. I guess that view point was inevitable when his dad was a serial killer who made Jazz watch his horrific killings. However there is something about Jazz that makes him likable; his sense of humor or maybe his fear of becoming a serial killer or both. Jazz's best friend, Howie, was a bright light in this chilling gory murder thriller with his humor and unusual personality. This book is a fast read and enjoyable, which is a weird word to use to describe a gory murder mystery but there you go, this book was enjoyable.
My Rating: