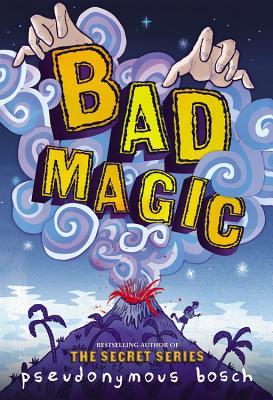 A magical new series from Pseudonymous Bosh, the bestselling author of the Secret Series

Magic is BAD.
As in fake. Cheesy. Unreal. At least, that's what Clay, who has seen one magic show too many, thinks.
When words from his journal appear mysteriously on his school wall as graffiti, he never imagines that magic might be to blame. And when the same graffiti lands him at Earth Ranch, a camp for "troubled" kids on a remote volcanic island, magic is the last thing he expects to find there.
But at Earth Ranch, there is one strange surprise after another, until Clay no longer knows what to expect. Is he really talking to a llama? Did he really see a ghost? What is the scary secret hidden in the abandoned library? The only thing he knows for sure is that behind the clouds of vog (volcanic smog), nothing is as it seems. Can he solve the riddle of Earth Ranch before trouble erupts?
Elusive author Pseudonymous Bosch introduces an extraordinary new series that will have you believing in the unbelievable.
First off thanks to NetGalley for getting me a copy for an honest review.
Now onto the book review. I loved this read from the first line:
"This book begins with a bad word."
I was hooked and could not put it down because it is filled with mystery and adventure. The plot is amazing because you think you have it figured out and then a plot twist happens. The characters are enjoyable and I think that has everything to do with the authors writing style. The footnotes that are background information for the kids are great and done in such an fascinating way without devaluing the readers. I haven't read anything else by this author or in this series and I do not think you need to in order to enjoy this book.
This was a great read for the age group, grades 4-6, due to the relate-able characters and great plot.
My Rating: