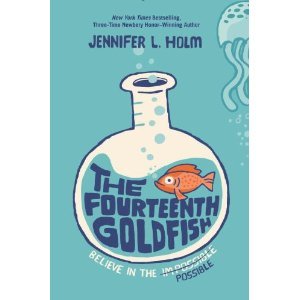 Galileo. Newton. Salk. Oppenheimer.
Science can change the world . . . but can it go too far?
Eleven-year-old Ellie has never liked change. She misses fifth grade. She misses her old best friend. She even misses her dearly departed goldfish. Then one day a strange boy shows up. He's bossy. He's cranky. And weirdly enough . . . he looks a lot like Ellie's grandfather, a scientist who's always been slightly obsessed with immortality. Could this pimply boy really be Grandpa Melvin? Has he finally found the secret to eternal youth?
Age Range: 8 - 12 years
Grade Level: 3 - 7
Jennifer L. Holm is a NEW YORK TIMES bestselling children's author and the recipient of three Newbery Honors for her novels OUR ONLY MAY AMELIA, PENNY FROM HEAVEN, and TURTLE IN PARADISE.
Jennifer collaborates with her brother, Matthew Holm, on two graphic novel series -- the Eisner Award-winning Babymouse series and the bestselling Squish series. She is also the author of several other highly praised books, including the Boston Jane trilogy and MIDDLE SCHOOL IS WORSE THAN MEATLOAF. She lives in California with her husband and two children.
I found this book to be quite delightful. The characters are amusing and the story was truly funny. I feel like kids will love this book because it will keep them entertained and it is easy to read for the targeted age group. When I was in school my favorite subject was science and I did not read a lot at that age I just wanted to experiment. I feel like this book will bridge the gap for kids, who were like me, that struggled with reading but loved science.
I think parents and teachers will love this book for their kids because it teaches them about life, death, family, identity, exploring, and being right minded.
My only issue reading this book was that the chapters ended suddenly and then began in strange spot in the story. I felt like this might cause a disconnect in the story for young readers.
My Rating:
The fourteenth Goldfish by Jennifer L. Holm is available August 26, 2014!